Slim harpo mohair sam - Excello - Soulful Kinda Music
Excello was formed by Ernie Young as a subsidiary of Nashboro Records in 1952 to record blues. Jay Miller was the primary studio producer for Excello. Excello was the first blues label established in Nashville, Tennessee. The label made an important contribution to rock and roll in 1954 when it recorded an answer song to Eddy Arnold's country and western record "I Wanna Play House With You" called "Baby, Let's Play House," by Arthur Gunter. The song was covered by Elvis Presley a year later in one of his finest performances on Sun. Presley's cover version was closely based on the Gunter original.

Excello had a wonderful array of blues singers who even today have a strong following among collectors. Chief among these was Slim Harpo (James Moore), whose unmistakable voice droning "I'm a king bee, buzzin' 'round your hive" was imitated years later by groups such as the Rolling Stones. His inimitable '60s hit "Baby, Scratch My Back" has been recently unearthed in the 1992 motion picture Rush . Other Excello blues masters included Lightnin' Slim, Silas Hogan, Lazy Lester, and Lonesome Sundown.

In 1957, an Excello group (the Gladiolas), featuring a lead singer named Maurice Williams, recorded an original song, "Little Darlin'," in a fairly uptempo r&b arrangement. The song sold well enough to make #11 on the R&B charts, but it was "covered" for the pop market by a Canadian quartet called the Diamonds on Mercury Records. The Diamonds, with a slight change of wording and a lean toward parody, propelled the song to a major pop hit. Today, the original Excello record is obviously worth more to collectors. Williams changed the name of the group to Maurice Williams and the Zodiacs in 1960, and had a top-ten pop hit with "Stay" (on the Herald Label). Most people these days remember Maurice Williams as a one-hit artist, but in addition to his two huge hits "Little Darlin'" and "Stay," his tunes such as "May I" and others have become the foundation for the repertoire of such Carolina Beach Music groups as Bill Deal and the Rhondels.

Jay Miller, the Excello producer, has been the subject of many articles and record reissues for the blues he produced for the label. The sound is sometimes referred to "swamp blues". All of the Excello albums issued in the 1960s are very collectable, although because most of the albums remained in print for years, the cover graphics were changed from time to time over the years.

The Excello material has been reissued several times within the past decade. In the late 1980s and early 1990s, Rhino Records put out several compilations from the Excello masters. In the early 1990s, the masters were sold to AVI entertainment. AVI's Rob Santos retained Tom Moulton to remaster and upgrade virtually the entire Excello catalog, with the result being many CD reissues from 1993 to 1996 in quite excellent sound. By 1997, AVI itself was bought by Hip-O, a label associated with MCA, so the Excello masters are today just starting to be reissued on Hip-O. The Moulton remasters are apparently being used as sources for the Hip-O reissues.

Excello was not a big label for stereo recordings. Several of the late '60s tunes by Slim Harpo (primarily on the album Tip On In ) have shown up in true stereo, but not much else. Early LPs were reissued later in rechanneled stereo. For those albums where we have found an indication of a stereo issue, the prefix "LPS-" is used; for others, they may have been issued in mono only.

The first Excello label was orange with blue printing. "EXCELLO" above the center hole in blue. Below the Excello is the notation "33 1/3 RPM", "NONBREAKABLE". At the bottom of the label is "MICROGROOVE LONG PLAYING". This label was used in the early 1960s.




The second label was white with black printing. "EXCELLO" above the center hole with pink and green arrows swirling around the top of the label. This label was used in the late 1960s.





The third label was blue with black printing. "excello" in a black and white box above the center hole. This label was used in the 1970s.




We would appreciate any additions or corrections to this discography. Just send them to us via e-mail . Both Sides Now Publications is an information web page. We are not a catalog, nor can we provide the records listed below. We have no association with Excello Records, which is currently owned by Hip-O Records. Should you want to contact Hip-O, or should you be interested in acquiring albums listed in this discography (which are all out of print), we suggest you see our Frequently Asked Questions page and follow the instructions found there. This story and discography are copyright 1998, 1999 by Mike Callahan.
Connect your Spotify account to your account and scrobble everything you listen to, from any Spotify app on any device or platform.
Retrouvez toutes les discothèque Marseille et se retrouver dans les plus grandes soirées en discothèque à Marseille.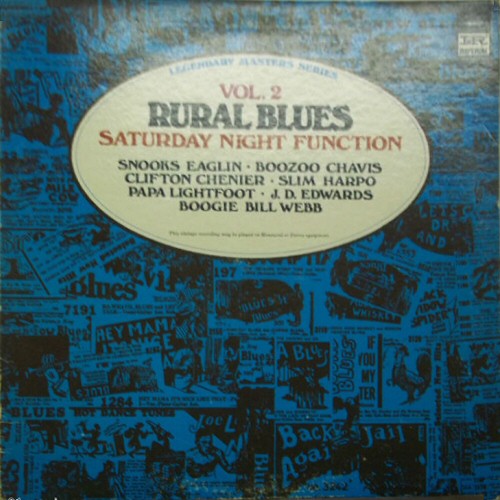 rx.kulturformidling.info